about our company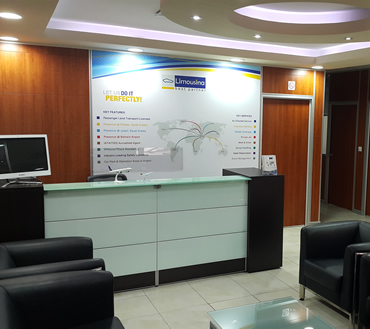 Limousina is the world's leading provider of chauffeured services and ground transportation logistics management. With an exclusive global network spanning more than 82 cities worldwide, Limousina offers unrivaled safety, consistent service standards, and innovative travel technology for both travelers and arrangers.
Limousina features a world-class fleet of latest-model executive and luxury vehicles, best-in-class professional chauffeurs, and a full portfolio of specialized transportation logistics management services such as Meetings and Events, Private Aviation Ground Transport, and Road Shows.

Limousina Ground Transportation Management Services provide more than just vehicles and chauffeurs– Its 360-degree transportation management with specialist-driven departments of highly trained experts catering to the high-touch logistics management requirements associated with the most complex travel programs. .

Each expert department features skill sets and operating procedures specifically designed to address the unique logistical challenges and unique needs of specialized transportation programs.

On-Time Elegance, Luxury, Reliability, Professionalism, Cleanliness, Knowledge of the local and important areas, Graciousness, Willingness, Flexibility and most importantly Safety and Security of passengers are more than a list of words at Limousina, they are a tradition. With unparalleled attention to detail and exacting precision, Limousina delivers distinct Transportation Services designed to meet all of your travel needs.
Offer a Premier Service to VIP/CIP's, Sr. Executives, Visitors, Family Members, Unaccompanied Children, Disabled Passenger or Sr. Citizens at Dammam and Bahrain International Airport.

Professional & Courteous staff will meet the guest from the Aerobridge, assistance will be provided at Immigration, Customs and Luggage area. After this quick and seamless service, the guest will be handed over to the assigned Chauffeurs who will drop at the agreed location whether in Saudi Arabia or Bahrain. Similar service can also be provided on their departure too.

Guest can also be received with fresh flower bouquet, lounge facilities, etc as per Clients request - Arrival & Departure.
Limousina offer complete Ground Transportation Solution to our valued Clients.

At Limousina, we offer choice of Fleets and it is Clean-Neat-Brand New-Non Smoking and fully insured including Passengers.Chauffeurs are Professionally Trained in Defensive Driving & Customer Service, Uniformed with the knowledge of Local Routes. It helps to guarantee complete Safety & Security to our valued Passengers during their trips.

Apart from Kingdom of Saudi Arabia,Bahrain Limousina can offer Chauffeur Service Globally in 82 Countries.


Limousina is an IATA TIDS accredited agent which help us to offer Executive Hotel Accommodation as per the choice of our Clients whether it is for Business or Leisure…

Since we've negotiated rates with all the leading Hotels, our clients doesn't need to cost 'extra' charges. Furthermore, it gives complete relaxation and time saving for Clients to deal with one Service Provider to handle Hotel Booking, Chauffeur Service, Special Meet & Greet service, etc while making booking, amendments or cancellations. We can also offer special group rates, Conference rooms, special events, tailor made packages, etc as per client choice, etc.


MISSION & VISION
Limousina's mission is to enable businesses to efficiently develop and deliver better products and services using innovation, integrity and a commitment to excellence.
Limousina's vision is to be the world's premier chauffeured services company. We will combine a comprehensive set of world-class capabilities to deliver on the promise of innovation while becoming the world's most respected provider of chauffeured services and ground transportation logistics management.
Limousina is the trusted company in Kingdom of Saudi Arabia and Bahrain for chauffeured services and ground transportation logistics management, providing full-service solutions for the world's most sophisticated travelers. Since 2008, the Limousina brand has represented uncompromising reliability and impeccable professionalism, safety, security and quality.